Guess what? Today I turn 11! I've been so excited for my birthday, and at last it is here!
I had a wonderful party this afternoon with several of my friends. I'm so happy they were able to come. My mom helped me put my hair in curlers last night so that my hair would be curly. Isn't it cute? Sometimes I wish my hair was always curly, like Lanie's, but she says sometimes she wishes for straight hair.
My mom bought this amazing chocolate cake - doesn't it look delicious? It tasted sooo good.
We had cupcakes, too. They were lemon flavored.
The best part of my birthday was having all of my friends over, but the second best part was the present Grandma Maxwell sent for me.
Guess what was inside?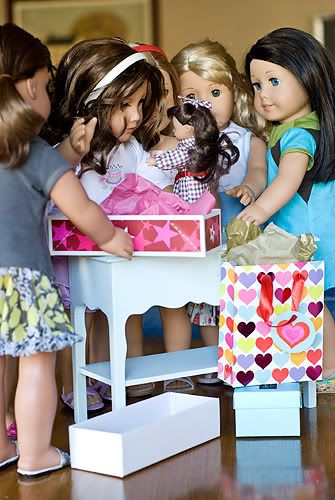 A Samantha doll!!! I'm so excited! Now Nellie and Samantha are together as best friends again. Samantha is so pretty, look at her long hair. I just finished reading the Samantha stories, so it makes it even more special to have her. I think my favorite one was Samantha's Surprise.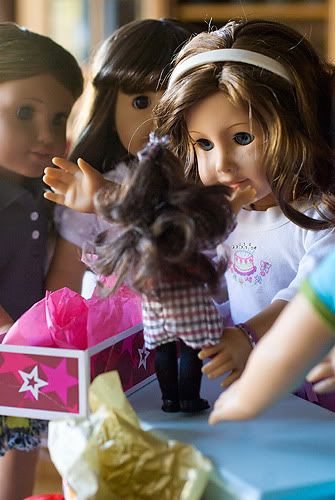 Everyone wanted to hold Samantha and play with her.
My parents must have known that Grandma Maxwell was getting me Samantha, because they got me a present too -
- Samantha's birthday outfit!!
Now Samantha and I were able to dress up for our birthdays together!
I'm having such a wonderful birthday. I wish every day was my birthday, but then I guess it wouldn't be as special, would it?