Hey guys! I decided it's probably time me to tell you more about me.
My name is Piper Nicole Maxwell, and I'm 10 years old. I'm in Miss Parker's 5th grade class at Westland Elementary School. I love school, especially creative writing! I also love to read, my favorite book is The Secret Garden. I take ballet class two times a week, although my mom says I never stop dancing really - on the sidewalk, in the kitchen, anywhere! I cannot wait until summer, I love being outside and going camping. I'm also extremely talented at climbing trees and doing flips on the trampoline! My favorite color is blue, and my favorite food is pizza!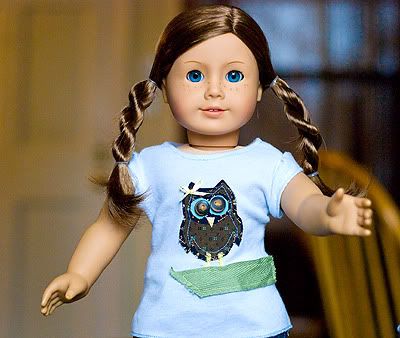 Yesterday I saw some pictures of the new custom tees at American Girl Place New York, and I wanted one so bad - they are so cute! But of course, we don't live anywhere near AGPNY. So instead I made my own! I love animals, so I decided to put an owl on my shirt. I was a little worried at first, because I thought appliques were for babies, but I love how it turned out! I chose all the fabrics from my person's big stack of scraps - she said that makes her feel better about her terrible habit of hanging on to every fabric scrap. It's really cold and gray outside, so we couldn't get a very good picture. Hopefully we can get a better one later on.
Here's a close-up of the owl -