Today I was so excited because my friend Julianna came over to play! Julianna is also ten-years-old. My person's husband says that Julianna and I must be twins because we both have freckled faces! Julianna and I both love doing crafts, so the first thing we did was pull out the ol' fabric stash box!
After a little bit of goofing off, we finally chose on some fabric to do some more serious "playing around" with.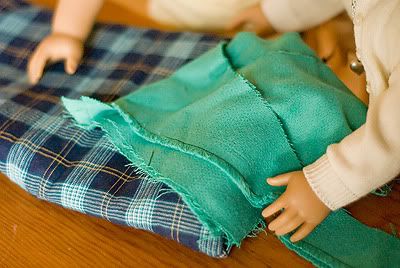 I cut out the patterns while Julianna threaded the needle and sewed.
When we were finished, we had fabric flowers!!
I helped Julianna pin hers in her long, blond hair.
Aren't they great?
It is really cute as a brooch, as well!
We had so much fun making them together, that I had a wonderful idea. I told Julianna, and she thought it sounded great, too!
We made an extra plaid flower to share with one of my lucky internet friends! When my person heard my plan, she thought it was great and made a plaid flower for the winner's person, too!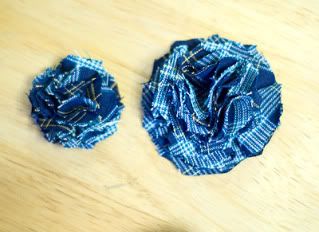 All you have to do to enter is leave a comment. Remember, if you win we'll need your address to send you the flowers, so make sure you have your parent's permission! If you win, you can choose whether you want your flowers as hair pins or brooches! Leave a comment by midnight on February 6th, and we'll randomly choose a winner on February 7th.
I had so much fun with Julianna. I can't wait until she comes over again.