My cousin Molly lives in California with my person's aunt. She just sent me this letter about the wonderful adventures she has been having, and I wanted to share it with all of you!
Dear Piper,
Over President's Day weekend my person and I traveled down to Arizona! It was so nice and warm there. We enjoyed pools and parties, but my absolute favorite thing that we did was go horseback riding!
Early in the day my person and I worked on decorating some t-shirts. We made a pink on with roses, and a purple on with a big sunflower!
Here I am, working hard. Do you like my new glasses? They are just like the ones my person wears!
Afterward, we headed out to the stable where I got to meet Blaze, a beautiful, sleek black horse. He was so friendly!
I was a little bit nervous about riding, because this was my first time. But Blaze was so gentle and patient.
Blaze and I rode through the dry Arizona desert. The desert is actually really beautiful, and the colors are so different from sunny California.
I fed Blaze carrots to say "Thank you" for such a wonderful ride. I can't wait to get in the saddle again!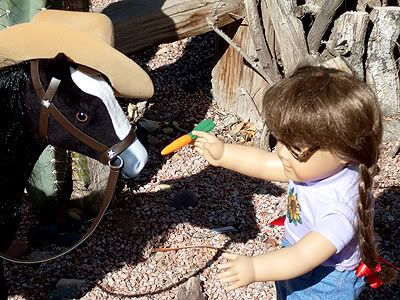 I miss you and hope that you are doing well!! Can't wait to see you again soon!
Hugs and kisses,
Molly